Cyprus camping sites
In case of a Forest Fire Call
1407
There are 5 camping sites in the state forests with a total capacity of 2,400 persons in which camping is allowed for a small fee for overnight stay. The Forestry Department manages three of these camping sites while the other two that are also situated in state forest land, are managed by other agencies. They provide facilities like barbecues, drinking water, tables and washrooms.
Number
on
map

Name of
site

District

Altitu-
de (m)

Location of site

Maximum capacity (tents, caravans /persons)

1

Polis Chrysochous**
Pafos
0
1km northwest of Polis Chrysochous in the Limni state forest (eucalyptus trees)

200 / 700

2

Stavros tis Psokas
Pafos
900
About 20km from Lysos or Kannaviou, near Stavros tis Psokas forest station

60 / 150

3

Kampi tou Kalogyrou*
Lemesos
1540
Platres - Prodromos road, 4km from Trooditissa and 3 km from Prodromos next to the road

80 / 300

4

Platania*
Lefkosia
1100
Kakopetria Troodos road, 5km from Kakopetria left to the road, before Platania forest station

150 / 600

5

Troodos**
Lemesos
1600
Karvounas - Troodos road, 1km before Troodos square, left of the road

170 / 650
* Managed by the Forest Department
** Situated within state forest land and managed by other agencies
Cyprus map (camping sites)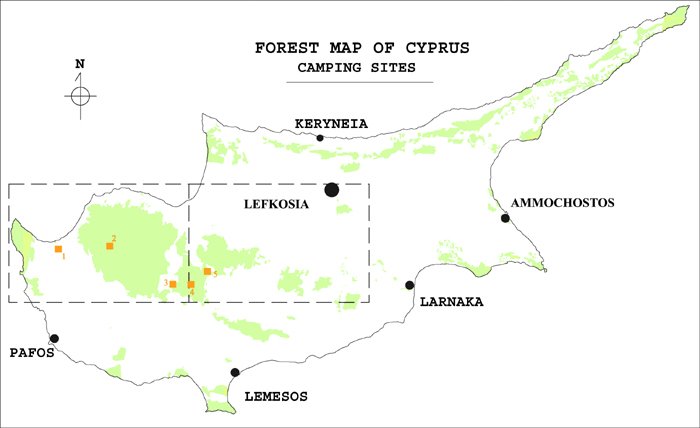 Click to enlarge image

We always provide top quality services.

We work around the clock 24/7 !

We work anywhere in Cyprus.
---
Main | ▲ | Contact
Copyright © CyprusSite.com. KrAn. All rights reserved. 2004-2016.
Feedback + / x